Unionized medical residents just inked their first system-wide contract with University of California Health — and it includes a 16% pay raise over 2 years, 4 weeks of vacation and 8 weeks of paid leave.
About 5000 residents are covered by the contract, which covers the University of California's six academic medical centers. The residents are members of the Committee of Interns and Residents (CIR), a local of Service Employees International Union (SEIU).
The contract was finalized after UC doctors organized a coordinated, system-wide resident physician protest, which was joined by striking academic workers, who are a part of the United Auto Workers union.
"This is really the power of resident physician organizing at work," Caitlin Roake, MD, PhD, a second-year emergency medicine resident at University of California San Francisco's Fresno campus, said in a press releasing announcing the victory.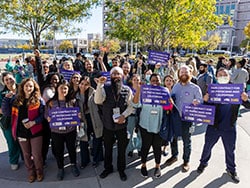 Healthcare workers during a protest at University of California Davis last November.
Residents have long complained about long hours, difficult working conditions, and wages so low it can be hard to get by in larger cities. A recent trend toward unionizing is helping these crucial workers get better treatment. Between 2020 and this year, the CIR union has grown from 17,000 to 24,000 members, said union spokeswoman Dara Streit. Other smaller local resident physician unions, including the Resident and Fellow Physician Union Northwest at the University of Washington and the San Diego House Staff Association at UC San Diego also voted to affiliate with CIR last year.
Rising rents in areas near the system's hospitals helped spur the collective bargaining effort. The salary increase — a 6% initial raise followed by 5% raises in 2023 and 2024 — will make it easier for these early-career physicians to live near their work, an important factor for workers who often put in 80-hour weeks.
"For the majority of residents, their paycheck goes almost entirely to rent," says Nekisa Haghighat, MD, MPH, a second year psychiatry resident at UC Riverside and one of the union's leaders.
In addition to pay increases, the contract provides significant paid time off – a critical benefit in a profession already struggling with high rates of burnout. "Physician burnout, depression, suicide are real," says Haghighat. "The pandemic just escalated and magnified it."
The new contracts will help residents deliver better patient care, union organizers say.
"At the end of the day, this is the number one reason we're doing this," says Haghighat. "To be able to take care of our patients, we need to be able to take care of ourselves. We're not asking to be able to drive luxury cars or go on crazy vacations" she says. "All we're asking for is to be able to live a decent life amongst the 80 hours that we're working a week."
These were the first union contracts for physicians at UCSF Fresno and UC Riverside, two hospitals that care for some of the state's most underserved communities.
The University of California announced that it was pleased with the agreements, saying in a statement, "We believe these contracts honor the vital role of our resident physicians and fellows who have been on the frontlines of California's effort to fight the COVID-19 pandemic over the last three years."
The Committee of Interns and Residents is the largest house-staff union in the United States, representing over 24,000 resident physicians and fellows. The CIR-SEIU website states, "We use our collective voice to advocate for cost-effective, high quality health care for all."
For more news, follow Medscape on Facebook, Twitter, Instagram, YouTube, and LinkedIn
Source: Read Full Article