Okay, if you want to see #fitcouplegoals, just check out Kelly Ripa and Mark Consuelos in their matching white swimsuits on vacay.
The couple was spotted on the beach while visiting Cabo San Lucas, Mexico. Kelly, 48, rocked a white bikini which totally highlighted her insanely fit body (I mean…that six-pack). And Mark, 47, sported white trunks (and, ahem, biceps), People reported.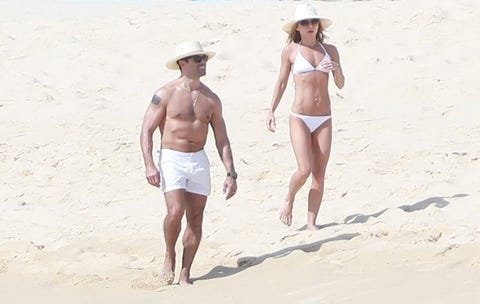 Backgrid
The Live With Kelly and Ryan host and actor husband met back in the 90s on the on the set of the soap opera, All My Children, and eloped in Las Vegas in 1996. They're parents to three children: Joaquin, 15; Lola Grace, 16; and Michael, 20.
The pair shows some serious support and love for each other, too. In March, Mark shared an Instagram photo of Kelly on the beach with the caption: "Sultry Sundays with the sexy one are my fave…"
View this post on Instagram
A post shared by Mark Consuelos (@instasuelos) on
The previous photo was immediately met by backlash from commenters who claimed Kelly shouldn't be wearing a bikini at her age and as a mom of three. But Mark wasn't having it—the Riverdale star jumped to his wife's defense:
He concluded his comment with a sentiment directed to his wife: "I love you @kellyripa … keep killing it."
Of course, that's an understatement when it comes to Kelly's workout regimen, which has included regular workouts with Anna Kaiser, founder of the dance-fitness studio AKT in Motion, for years. Kaiser told Us Weekly that Kelly's workout routine at AKT includes interval training mixed with cardio dance.
View this post on Instagram
#wcw these two women are simply inspirational. Thank you @theannakaiser for showing us how to sweat. Thank you #JoanLeary for showing us how to live. 💪🏽💪🏽💪🏽❤️❤️❤️
A post shared by Kelly Ripa (@kellyripa) on
Killing it, indeed.
Source: Read Full Article