Although you're technically not supposed to eat Nestlé Toll House's premade cookie dough, we would all be lying if we said we've never sneaked a couple bites. But now we don't have to worry about eating the dough meant for cookies, because Toll House Edible Cookie Dough has arrived in pints!
It's all thanks to Instagram account @FamilyFoodDude that we even know the edible cookie dough exists. The picture shows two flavors: Chocolate Chip and Peanut Butter Chocolate Chip Monster. They are both made with 100 percent real chocolate and are just begging to be spooned directly into your mouth.
Look, I'm just as excited as the next chubby little bastard that there's another edible cookie dough on the market. But let's keep it a buck: All cookie dough is edible if you aren't a jabronie. "Is it worth salmonella poisoning?" Uh, have you ever tasted raw cookie dough? I'm here for a good time, not a long time! P.S. These are both worth a purchase but you NEED the Monster one in your life. 🍪 ➡️ https://linktr.ee/familyfooddude
A post shared by Eric Koenreich (@familyfooddude) on
There's no need to add anything to the 15-ounce jars, because they're all set to eat as is. The flavors were spotted in the refrigerated section at a Publix in Florida. While we have yet to hear from the brand, we're hoping these go nationwide sooner rather than later.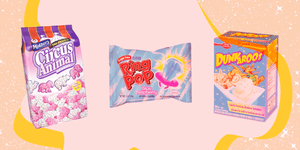 Source: Read Full Article